Kohl's Corporation KSS appears to be in robust shape. The company has been benefiting from its strategic framework that was introduced in October 2020. The strategic plan focuses on four key areas — driving top-line growth, expanding operating margin, implementing disciplined capital management, and undertaking an agile accountable and inclusive culture. Its solid omni-channel efforts and prudent partnerships have also been yielding favorable results.
Encouragingly, the Zacks Rank #1 (Strong Buy) company raised its guidance for fiscal 2021 on posting spectacular second-quarter fiscal 2021 results. For the quarter, both the top and bottom lines advanced year over year as well as outpaced their respective Zacks Consensus Estimate. The consensus mark for fiscal 2021 earnings has risen from $5.85 per share to $6.09 over the past seven days. Let's take a closer look at the upsides of this retailer of branded apparel, footwear, accessories, beauty and home products.
Stellar Second-Quarter Results & Perked Up View
For second-quarter fiscal 2021, total revenues came in at $4,447 million, up 30.5% from the prior-year level. The metric surpassed the Zacks Consensus Estimate of $4,201 million. Sales were mainly fueled by growth in the company's store sales. Kohl's remains encouraged about its traffic, with customers returning to stores. Kohl's posted adjusted earnings of $2.48 per share, which reversed significantly from a loss of 25 cents reported in the year-ago period. The bottom line also crushed the Zacks Consensus Estimate of $1.30 per share. The company recorded the highest operating margin in 10 years, thanks to efficient pricing and promotional strategies, tight expense management along with strong inventory management.
A robust second-quarter show encouraged management to raise its guidance for fiscal 2021. On earnings call, the company stated that it was witnessing initial strength in core back-to-school areas such as denim, active and backpacks, and anticipates demand to sustain as it reaches Labor Day. For fiscal 2021, management now expects net sales to grow in low 20s. Earlier, the company anticipated the metric to grow in the mid-to-high teens percentage rate. Operating margin is now likely to be 7.4-7.6%, up from the previous expectation of 5.7-6.1%. Finally, Kohl's now envisions adjusted earnings per share in the range of $5.80-$6.10 compared with $3.80-$4.20 anticipated before. The company's raised view suggests that it is well placed to achieve a number of 2023 strategic targets this year, much ahead of plan.
Kohls Corporation Price, Consensus and EPS Surprise
Kohls Corporation price-consensus-eps-surprise-chart | Kohls Corporation Quote
Strategic Framework Underway
Under its initiative to drive top-line growth, the company intends to become the most trusted retailer of choice for the active and casual lifestyle. Also, it expects to reignite growth in the women's business and build a significant size beauty business. This is likely to be aided by the recent alliance with Sephora. Further, Kohl's is on track to grow the Active and Outdoor category to at least 30% of the business. Well, expanding outdoor via prudent alliances like the recent Eddie Bauer launch and strengthening of its athleisure opportunity through the launch of FLX are impressive steps in this direction. Active sales surged more than 40% for the second quarter and accounted for 24% of the company's total sales.
Kohl's is undertaking strategic efforts to solidify the omnichannel business, with its investments yielding solid results. Moving on, the company intends to reach its operating margin goal of 7-8% by 2023 with the help of modest level of growth, ongoing transformational margin initiatives and persistent focus on operational excellence. Kohl's expects to achieve this target via gross margin and selling, general and administrative expense efficiency. Finally, it is committed to disciplined capital management by maintaining investment grade rating, generating robust cash flows and returning wealth to shareholders.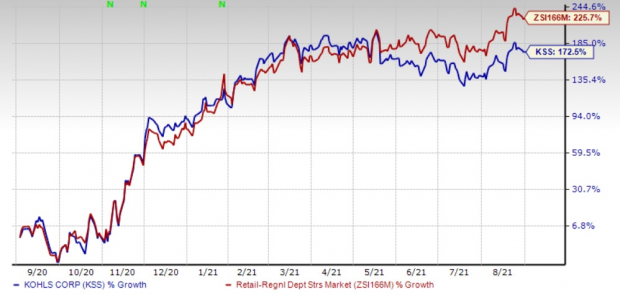 Image Source: Zacks Investment Research
Prudent Alliances & Omnichannel Strength
Kohl's has been strengthening ties with retail giant Amazon AMZN to drive traffic. The company has been benefiting from the rollout of its Amazon returns program nationwide. According to this program, Kohl's stores accept free, unpackaged and easy returns from customers of Amazon. The company is impressed with the performance of the Amazon returns program. It successfully launched Sephora on its digital platform in early August and has been receiving favorable customer response. Management is on track to open 200 Sephora at Kohl's stores during 2021. By 2023, Kohl's expects to expand Sephora shops to at least 850 stores, with 400 locations projected to open in 2022.
The company has been benefiting from the growing digital business. For second-quarter fiscal 2021, digital sales fell 14% year over year on account of tough comparisons with the year-ago period, wherein digital sales had been fueled by temporary store closures. Digital sales, contributing 26% to total quarterly sales, increased 35% from the comparable period in 2019. That being said, stores form the basis of the omni-channel model and fulfilled about 40% of the company's digital sales for the quarter under review. This in turn was driven by ship from store and customer pickup.  
These upsides are likely to keep Kohl's on the growth trajectory. Shares of the company have soared 172.5% in the past year compared with the industry's 225.7% rally.
2 Solid Retail Picks
Dillard's DDS, sporting a Zacks Rank #1 at present, has a long-term earnings growth rate of 24.3%. You can see the complete list of today's Zacks #1 Rank stocks here.
Macy's M, currently flaunting a Zacks Rank #1, has a long-term earnings growth rate of 12%.
Bitcoin, Like the Internet Itself, Could Change Everything
Blockchain and cryptocurrency has sparked one of the most exciting discussion topics of a generation. Some call it the "Internet of Money" and predict it could change the way money works forever. If true, it could do to banks what Netflix did to Blockbuster and Amazon did to Sears. Experts agree we're still in the early stages of this technology, and as it grows, it will create several investing opportunities.
Zacks' has just revealed 3 companies that can help investors capitalize on the explosive profit potential of Bitcoin and the other cryptocurrencies with significantly less volatility than buying them directly.
See 3 Crypto-Related Stocks Now >>
Amazon.com, Inc. (AMZN): Free Stock Analysis Report
Macys, Inc. (M): Free Stock Analysis Report
Kohls Corporation (KSS): Free Stock Analysis Report
Dillards, Inc. (DDS): Free Stock Analysis Report
To read this article on Zacks.com click here.
The views and opinions expressed herein are the views and opinions of the author and do not necessarily reflect those of Nasdaq, Inc.
https://www.nasdaq.com/articles/kohls-kss-looks-solid-on-strategic-framework-partnerships-2021-09-03